Taken from US News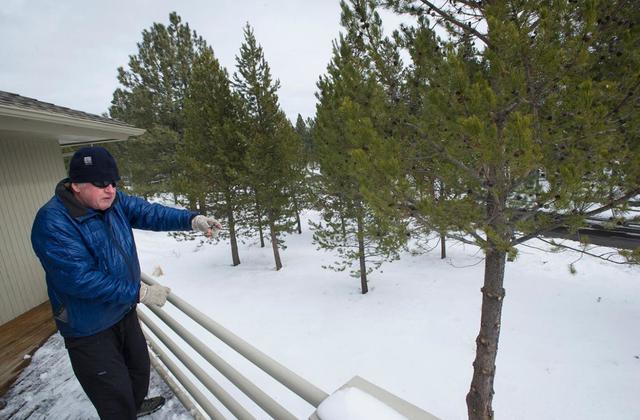 In this Wednesday, Feb. 29, 2018 photo, Doug Hoschek points to a group of trees he is trying to get approval from his Home Owner's Association to remove for fire protection that borders the property line of his home in Sunriver, Ore. Hoschek began to notice flammable trees dangerously close to neighboring homes, fire hydrants encircled by bitterbrush and limited options for evacuation in a worst-case scenario. (Ryan Brennecke/The Bulletin via AP) The Associated Press
By STEPHEN HAMWAY, The Bulletin
BEND, Ore. (AP) — After seeing smoke from the Milli Fire rise high over Sisters during a day trip to the Willamette Valley last summer, Doug Hoschek and Tina Machuca decided to do a bit of digging to see what would happen if an equally dangerous fire sparked near their home in Sunriver.
What they found concerned them, to put it mildly.
They began to notice flammable trees dangerously close to neighboring homes, fire hydrants encircled by bitterbrush and limited options for evacuation in a worst-case scenario. Perhaps most troubling: They found a homeowner's association that, in their view, isn't acting fast enough to address concerns in a community bracketed by the Deschutes National Forest on three sides.
Their fear is it will take a tragedy to create change. "The only logical outcome to this is it's going to take a fire," Hoschek said. "What we hope and pray is, when there is a fire, it's small enough to be contained."
On the other hand, residents and forestry officials point to Sunriver as a community that has improved tremendously at wildfire preparedness in a relatively short time. After decades of protections for every tree, Sunriver has embraced a set of standards designed to make the area safer.
"If they're not the most progressive, accomplished neighborhood in Deschutes County, they're definitely in the top three," said Joe Stutler, a former Deschutes County forester who advises the county.
Commitment to natural beauty runs deep in Sunriver. But while this ethos has attracted people to the community from across the country, it may mean that wildfires always will be a risk, especially as fire seasons get longer and hotter across central Oregon.
A resort community, Sunriver has a full-time population of fewer than 1,500 people. During busy summer weekends, the community swells to about 20,000 people, most of them vacationers.
Sunriver's master plan was completed in 1968, and from the outset, the vision of developer John Gray was to develop a community where the natural environment is at the forefront, with forested common areas spread throughout the community.
"Ecological vigilance has been a major concern since the beginning of planning," the foreword of Sunriver's consolidated plan reads.
While Hoschek noted that he doesn't believe Gray's vision requires Sunriver to be managed like an extension of the forest, the focus created an ethos of environmental protection that has stayed with the community for 50 years, according to Hugh Palcic, general manager of the Sunriver Owners Association.
In part because of that, Sunriver preserved the natural forest in the community in its early years, sometimes to the detriment of homes in the neighborhood. Wooden shake roofs were required as part of the community's code, which leaves the entire house at risk of fires, according to Alison Green, program director for Project Wildfire, which directs fire planning and mitigation in Sunriver and throughout Deschutes County.
"The roof is actually the most fire-vulnerable part of a home," Green said.
While Palcic said Sunriver has never had a serious wildfire within its boundaries, he added that the Awbrey Hall Fire, which ripped through Bend's western edge in 1990, burning 3,350 acres and destroying 22 homes in 12 hours, provided a wake-up call for the community to the south.
Green said the community began phasing out its iconic wooden roofs, passing an ordinance that any roof must be replaced by a fire-resistant material. Green said just 100 of 4,200 homes in Sunriver still have wooden roofs. Project Wildfire came on-board in 2004, and Sunriver drafted a community wildfire protection plan — a document designed by local stakeholders to reduce the risk of catastrophic wildfire — the following year.
The community has made a significant investment in keeping fire from reaching the crowns of trees, Palcic said. To that end, Sunriver annually brings in contractors to get rid of certain trees and remove brush and undergrowth, a rotating job that clears out areas once every six years over roughly 150 acres of the community's common areas.
Still, Hoschek and Machuca don't believe it's enough. Hoschek, who worked in the outdoor apparel industry for 45 years and developed the synthetic fabric known as Polarfleece, has been living in Sunriver on and off since 1973. He and Machuca, his wife, have been living full time in their home near Sunriver's northern edge since 2016.
"We live here because we love nature," Machuca said.
Last fall, Hoschek co-founded Prescribed Fire Living, a separate program that encourages residents of Sunriver and nearby communities to protect their homes from wildfire. Hoschek said he'd spoken to about 80 neighbors about the program.
Following the Milli Fire and the damaging winter fires in Los Angeles, Hoschek and Machuca became more concerned about the way Sunriver's common areas were being managed, and how they could get out of the labyrinthine community in case of a devastating fire.
Jim Fister, chair of the Sunriver Service District's board of directors, identified five evacuation routes from Sunriver. However, the condition and accessibility of several of those roads remains an open question. A locked gate off of Meadow Road, near the southern edge of the community, is deemed an evacuation route and could be opened in an emergency. Other routes rely on roads managed by the U.S. Forest Service, which Machuca said can be difficult to navigate in a car.
"We drove the (roads) that they said were in service," Machuca said. "They're not."
Fister described the routes as "passable" during the summer, but acknowledged that the community is working to formalize its evacuation options, in part because of criticism from Machuca and Hoschek. He said fires can be difficult to plan for, as the community is surrounded by Forest Service land on three sides.
"There are a lot of moving pieces," Fister said.
While Hoschek noted that Sunriver can't do much about fires in the national forest, he and his wife were frustrated by the forested areas within the community's boundaries. During a walk around the community, Hoschek pointed to bitterbrush — small, flammable shrubs common in western North America — along roadways and around fire hydrants as a potential fire risk.
However, Palcic said bitterbrush can be a helpful plant, in moderation. In addition to providing habitat for small rodents, Palcic said the shrub reduces the direct sunlight on soil, which keeps the fire risk down.
"If it's not a sea of it, it really could be beneficial," Palcic said.
Stutler added that the bitterbrush provides a buffer between roadways and Sunriver's more than 30 miles of paved bike trails, reducing the possibility of collisions. However, Hoschek countered by saying less-flammable plants could provide the same service.
"There are other … plants that don't do what bitterbrush does," Hoschek said.
Hoschek also expressed concerns about the composition of the forest in Sunriver. He said areas that would have been clearings in a more natural forest environment have been occupied by a mix of ponderosa and lodge pole pine trees. While ponderosa pines are comparatively fire-resistant, Green said lodge poles have thinner bark, and are thus more susceptible to combustion.
While Palcic said the Sunriver Service District is working to plant ponderosa pines where they can, Hoschek criticized Sunriver for continuing to allow lodge poles to proliferate within the community. Green said lodge poles are common in south Deschutes County, as the trees do well in pockets of frost and lava-rich soils. Despite their reputation, Green added that lodge poles rarely combust without underbrush beneath them, which the community works with homeowners to remove.
"If a tree is healthy, trees are one of the last things I'm worried about," Green said.
One of the biggest challenges for Sunriver is the number of homeowners in the community who only live there part-time. Hoschek noted that a vast majority of Sunriver's approximately 4,200 homes are listed as vacation rentals. Thomas Welle, manager of the National Fire Protection Association's Denver field office, said forest communities with a large percentage of absentee owners face challenges around communication and awareness.
"It makes it more difficult for the people who are living there," Welle said. "Some people just don't care."
To help bridge the communication gap, Palcic said Sunriver has begun sending courtesy letters to homeowners who aren't complying with the community's fire-prevention rules. While those letters can eventually lead to citations, he said explaining why the rules are in place has helped significantly.
Palcic said there's always more Sunriver can do to reduce its wildfire risk. Gray's focus on the natural environment looms large over the community, and Palcic added that, in a recent survey of homeowners, the number of respondents who felt the community was removing too many trees outnumbered the respondents who felt the community should do more by a factor of three or four. The key, he said, is balancing the concerns of people like Hoschek with the community's desire to fit into the natural world.
"I think we'll always be dealing with the risk of wildfire," Palcic said. "But I think we can determine how much risk we're willing to live with."