Taken from The Bulletin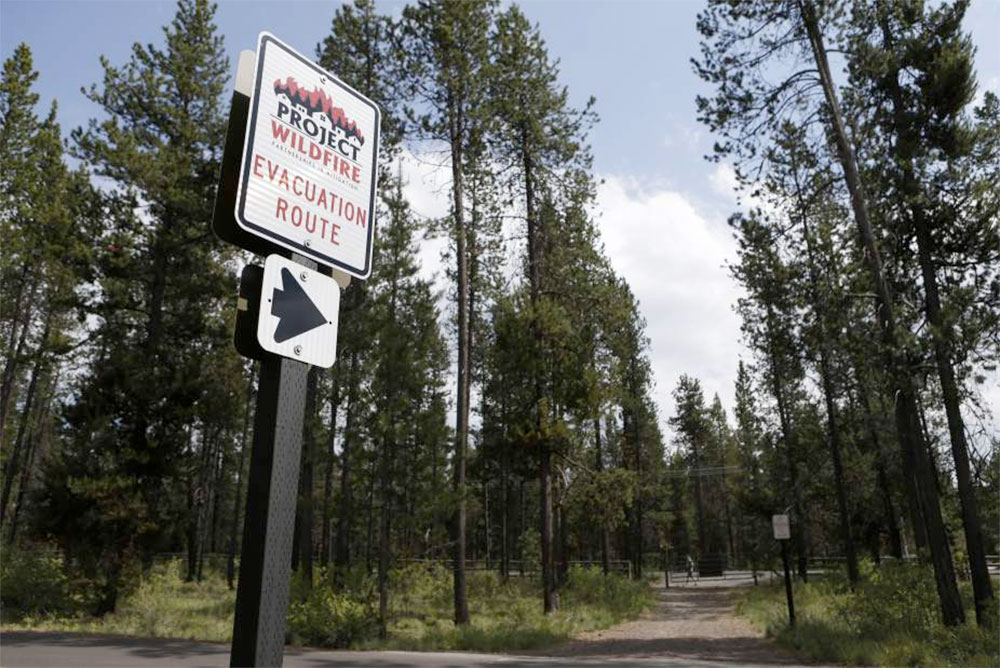 Drivers who have spent time in Sunriver know how easy it is to get turned around while trying to navigate the maze of traffic circles and side streets in the community.
While the streets make for leisurely driving for residents, they also create unique challenges in the event of an emergency evacuation from a wildfire or natural disaster.
With only two roads leading into and out of Sunriver, community leaders have had to be creative when developing an evacuation plan, utilizing roads managed by the U.S. Forest Service in the event of a worst-case scenario. However, critics and managing agencies alike noted that the main roads can get congested when widely used, and using unpaved roads during an evacuation can be a dicey proposition, particularly in a community with a lot of tourists.
Doug Hoschek, a longtime Sunriver resident and a vocal critic of the community's approach to fire management, said area officials need to take this more seriously.
"They're living in some fantasy that the fire is never going to come," he said.
Sunriver, established in 1968 by developer John Gray, has developed a progressive approach to wildfire preparedness in recent years, with a wildfire protection plan that emphasizes clearing certain trees and underbrush in the community on a rolling six-year cycle. Over the course of its 50-year history, the community has never had a wildfire within its footprint, and the handful of house fires in the area have been quickly extinguished, according to Sgt. P.J. Beaty, of the Sunriver Police Department.
"In the time that I've been here, I've been to many house fires, and I've never seen it go past one house," Beaty said.
Still, Nathan Garibay, emergency services manager for Deschutes County, said the size and location of the community makes planning for a potential wildfire a challenge relative to other Central Oregon neighborhoods.
Sunriver's year-round population is about 1,400, but the community grows to 20,000 during busy summer weekends. Additionally, the community is surrounded by Deschutes National Forest land on three sides, with just two roads — S. Century Drive and Cottonwood Road — leading to U.S. Highway 97.
Beaty said the community maintains a continuously evolving evacuation plan that addresses everything from nearby wildfires to volcanic eruptions.
Jim Fister, chair of the Sunriver Service District's managing board, said there's no singular approach to evacuating in the plan, which emphasizes different routes, depending on where and how a natural disaster approaches.
"Realistically, you have to take it emergency by emergency," Fister said.
He added that it would be unlikely that all of Sunriver would be asked to evacuate at the same time. The community is divided into 15 zones, which could each be individually notified if an evacuation is required.
In the event of an evacuation, Beaty said the community would work with other agencies in the county. Deschutes County has five sirens mounted in the community, as well as others installed on emergency vehicles, that issue a distinctive, two-toned "high-low" alert to let residents and visitors know there's an evacuation in progress.
"They hear that siren going off, they'll realize that something's going on, and they'll start asking questions," Beaty said.
Separately, Sunriver Police would send officers door-to-door in affected areas to let people know about an evacuation. The community would also send out messages using social media, radio and a phone app used by the service district.
From there, police would put up signs in Sunriver's abundant traffic circles, directing people toward evacuation routes. Beaty said the signs will help guide people who aren't familiar with the community.
"We're very aware that people get lost in Sunriver," he said.
The community's first choice would be to route evacuees toward Highway 97 using the two main roads, but congestion could become a factor in a large evacuation. Garibay, the county emergency services manager, said he believed the roads could get at least 600 cars per hour to the highway, but added that traffic data for the area is far from perfect.
Hoschek and his wife, Tina Machuca, criticized that element of the plan, noting that 600 cars per hour in a community of up to 20,000 people would lead to a lengthy evacuation on a tight timetable.
"We're looking at Sunriver like it's a really crowded nightclub with two exits," Machuca said.
If the main roads aren't sufficient, Fister said Sunriver can open up several emergency exits. A locked gate on the southern end of the community opens onto Spring River Road, which leads to S. Century Drive going east, and heads toward Mount Bachelor to the west, which would relieve the pressure heading out of the community's southern edge.
In a true worst-case scenario, Fister said a gate on a road leading to Cardinal Landing Bridge, on the community's western edge, can be unlocked, and drivers can travel over the bridge, and into the Deschutes National Forest, where they can take forest roads away from a fire. Kassidy Kern, spokeswoman for the national forest, confirmed that Forest Road 4140, which would be used during an evacuation, is open for the summer.
Hoschek expressed concern, though, that the weight of a couple dozen idling cars on Cardinal Landing Bridge could cause it to collapse. Fister didn't know how much weight the bridge could support, but the community would not allow the bridge, which is jointly managed by Sunriver and the Forest Service, to be used if it was deemed unsafe, he said.
The final evacuation route, a forest road that extends north of Sunriver, has significant ruts in places and is open to high-clearance vehicles only, according to Kern. Kern added that many routes out of the community would work better, noting that low-clearance vehicles should use the road only during emergencies.
Still, Fister's all-wheel-drive station wagon was able to traverse the road with relative ease, and he said the road was wide enough for vehicles to go around a stalled vehicle. If necessary, traffic could be diverted onto a nearby wide bike path, though Fister acknowledged that bringing cars onto a narrow road with dry vegetation would be a fire risk.
Hoschek said using Forest Service roads would only add to the confusion and chaos for Sunriver residents and visitors, many of whom are staying in vacation rentals and may not be prepared for an emergency evacuation.
"People are not going to be calm about this," he said.
He said the only solutions he could see are raising awareness, and staying away from Sunriver entirely during the heart of fire season.
Fister noted that the plan will continue to evolve. The community is working with Deschutes County to install traffic counters during busy weekends to get a better idea of how many cars the main roads can accommodate, shaping how the community directs traffic in an evacuation.
"We have good data; we want to get better data," Fister said.